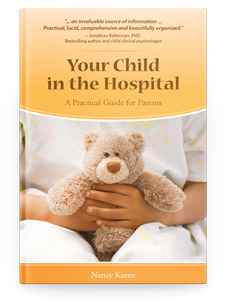 By Nancy Keene
No parent likes to think about their child having to go to the hospital. But it happens—more than 3 million children are hospitalized each year in the United States. Whether a child needs stitches, outpatient surgery, or a long stay in the hospital, Your Child in the Hospital describes how parents can make the most of the facilities, liven up the atmosphere, and even have some fun. It explains how to:
Prepare your child
Cope with procedures
Plan for surgery
Communicate with doctors
Deal with bills and insurance
It is also full of sensible tips as well as suggestions about what to pack, helpful books to read beforehand, and even how to get free plane rides for specialty care. Woven throughout the text are dozens of practical and encouraging stories from parents of hospitalized children. When you are packing the stuffed animals and pajamas to take to the hospital, make sure to take this book with you!
You can also purchase this book through AmazonSmile. Make sure to select Alex's Lemonade Stand Foundation as your charitable organization and each time you shop on Amazon, funds go to ALSF.