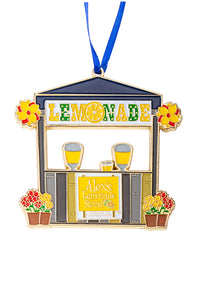 Launched in 2014 as ALSF's holiday ornament. This year's ornament is inspired by the "Lemonade and Love for Sam" stand held each year in Grover Beach, CA to honor the memory of childhood cancer hero, Sam Jeffers. 
At 8 years old, Sam passed away from inoperable brain cancer, but his community continues to come together to raise funds and awareness in the hopes that cures will be found. Featuring pinwheels, polka dots and lots of lemonade – the stand's design embodies Sam's sweet and playful personality.
This metal ornament measures approximately 3 inches tall by 2 1/2 inches wide.