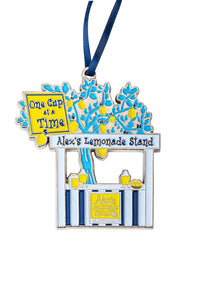 This Holiday Ornament was launched in 2016 and is based on a lemonade stand held in Overland Park, Kansas at a local Hy-Vee grocery store.  Did you know Hy-Vee has supported Alex's Lemonade Stand Foundation since 2004?
Similar to Alex's story, what started as one store helping a local family has blossomed into a community effort throughout Kansas and Missouri. To date, 25 Hy-Vee locations have raised a total of over $1.15 million hosting lemonade stands!
This metal ornament measures approximately 3 inches tall by 2 1/2 inches wide.