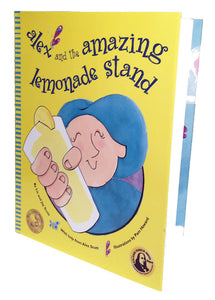 Alex and the Amazing Lemonade Stand is the true story of Alexandra "Alex" Scott and her courageous, inspiring battle against childhood cancer – using a lemonade stand.
Using rhymes and bright, whimsical pictures, Alex and The Amazing Lemonade Stand tells a sweet, true story of a little girl named Alex.

Faced with a problem she comes up with a plan----she will sell lemonade from a lemonade stand.

This book tells the true story about how Alex's seemingly simple and small idea turns into a national movement and inspires people from all walks of life and all parts of the world.

This story shows how the small act of one person can have a major impact.
To get involved with Alex's Lemonade, click here- Make A Difference